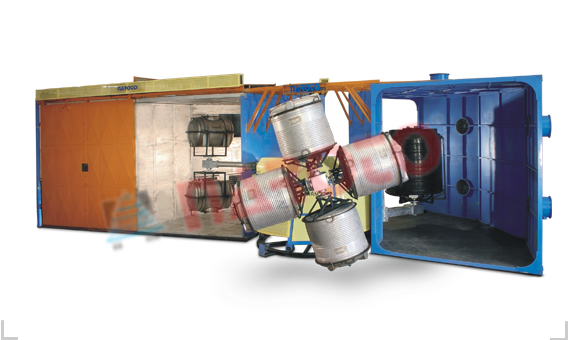 3 Arm Bi Axial Machine is a form of rotational moulding machine which with its multifunctional arms can ease the process of moulding. It has automatic door opening, closing and turret indexing. Inside its closed oven, optimized forced air is circulated to assure homogeneous heating of the mould. Fuel efficient burner are fitted in the machine and have auto ignition to quick start the heating process. An advance control panel regulates cycle time, temperature, RPM, and other related parameters to attain accuracy. There is no rejection of material during the process to assure that no interruption occurs in the functioning. With well configured components, 3 Arm Bi axial Machine offers the moulding of various materials in a clean and defect-free manner. Switch gears of this machine is enclosed with a dust resistant panel for safety and protection of the internal mechanical components.

Process:

Process of rotational moulding in 3 Arm Bi Axial Machine differs from other plastic processes owing to the use of heat as a primary or secondary factor. In the first step, the mould is filled with raw materials in the form of resin. Then the mould loaded with raw material is transferred to a hot air oven. Inside the oven of the 3 Arm Bi Axial Machine, the mould is continuously rotated at slow speed for a considerable time. The molten resin melts and gets adhered to the inner surface of the mould in a uniform manner. After this, the temperature of mould is slowly lowered by moving it through water or air. At last, the mould is separated to obtain the moulded article having the same design as of the mould.

Features of 3 Arm Bi Axial Machine:
Heating chambers infused with efficient technology for heat transfer work in an environment efficient manner.
Equipped with all required safety, interlocking and indication devices.
Eco-friendly burner suitable for CNG, LPG and different types of oils.
Reliable AC variable drives for accurate control on speed.
Environment friendly burners suitable for LPG/CNG/OIL/Duel fuels which is most fuel efficient.
Dust proof construction in which the switch gears are made of tough materials.