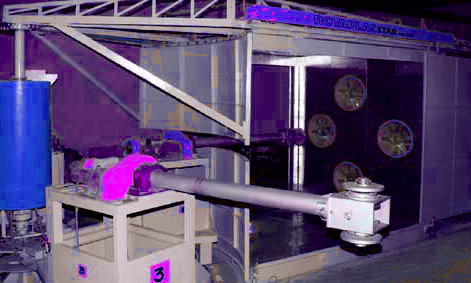 Independent Arms Carousal Machines is one of the most elementary bi-axial machines in the industry. It is available in broad array of sizes and can have up to six stations and 4 arms. Independent arms solve the problem of fixed-arm carousel in which all the arms must move together to perform the defined actions. In this, one arm automatically goes in the heating chamber while the other is in the cooling chamber and same for the other arms. The Independent Arms Carousel Machine comes with three or four arms that can move independently from the other. This allows free and multiple functioning for different cycle times, size molds and thickness needs.

Independent Arms Carousal Machines have separate drives and independent mould carriages. Each mould carriage can be programmed, indexed reverse/ forward and controlled independently. These machines have all the industry standard features including cooling chamber, heating chamber, controlling system and arms. The fitted mould carriages are free from each other in the Independent Arms Carousal Machines. Their holding station can be converted as additional cooling station. The machine has technology and efficiency of complete division of cooling and heating times from one arm to adjoining arm. The programmability of the Independent Arms Carousal Machines provide optimum management of wide suitability.

In the independent arm machines, the cycle time is no longer dominated by the arms, and thus, rectifies the problem that fixed arm carousel machines possess. Having 5 stations, these machines have the capability to operate 2 to 4 arms independent of one another. The Independent Arms Carousal Machines are advantageous to the custom molder who undertakes the production of a variety of molds and materials.

Features of Independent Arms Carousal Machines:
High tech controls for the hassle-free operation of the machine.
Arms' head is fitted with new special bevel gears and there is a new air flow design of the cooking chamber.
Large loading capacity of the arms and new system for shut and open of oven doors.
Cooking chamber treated with highly effective thermal insulation.
An electronically controlled burner to reduced fuel consumption no matter what type of fuel is used.