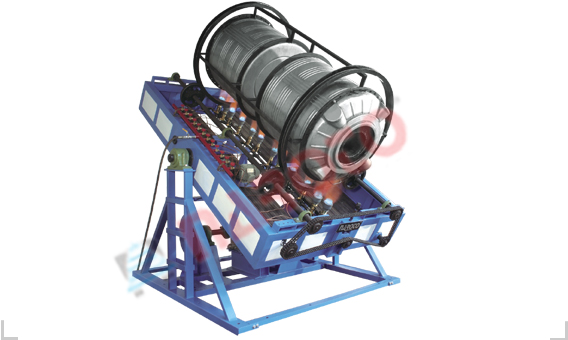 Rocking Oven Rock n Roll is an invention of modern technology, a machine that is capable of manufacturing large sized products without any kind of difficulty. The machine is configured to suit the industrial needs and bulk product manufacturing needs. The oven is constructed with double skin stainless steel and is designed as per updated technological specifications. Moreover, direct drive geared motors and safe burner control make this machine even more competitive in the market. Rock Oven Rock n Roll machine has variable speed A/C drive and has auto reversible facility. The other facility includes hydraulic power pack for rocking and other movement, which have proportional control valve gas and air injection facility. Importantly, it is a microprocessor based machine, which has full control over multiple time frame, temperature and speed.

Specifications:
Basic Frame – It is fabricated of tripodal supporting structure and heavy and mild steel along-with all necessary accessories.
Operation – This machine has advanced operating function, which runs through digital control panel.
Economical – For large size hollow products the production cost is low and the production output is high
Electrical – All the motors in this machine are AC with variance in speed for all kinds of rolling and rocking actions. This is how, the sped gets controlled through the panel board, resulting in smooth running of the machine without jerking.
Heating – The individual adjustable burners, operating on low pressure are designed user-friendly for comfortable usage by the operator. Even if the operator has little knowledge, an individual can run it without any type of hassle. Moreover, this results in effective burning, less consumption of fuel and long lasting performing life.
Cooling – The Rocking Oven Rock n Roll has a cooling system, which comprises steel structure, rolling drive and high efficiency industrial cooling fan, which result rapid and instant cooling.
No Rejection – the processing function of the machine is completely visual, which results in very less chance of rejection of products. Also, it results in higher production and low no break down.