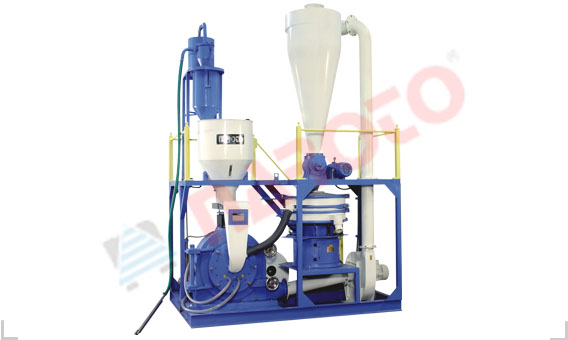 We are placed at the apex among the pre-eminent manufacturers and suppliers of pulverizers / pulverizer machines. In our array, we also offer different types of pulverizer machines like impact pulverizer, batch type pulverizer and many other pulverizers that are used for varied purposes such as blending, conveying, drying, grinding and separating. Our India make multi-purpose NPU model pulverizers are offered in the specifications of 30 kg to 500 kg/hrs in different applications. We manufacture these high precision equipment using latest technology. Stainless steel and mild steel heavy plate material are also used for fabricating these commercial grinders. These pulverizer machines are used in plastic industries for making different types of plastic products through rotomoulding process world wide.

Applications of Pulverizers / Pulverizer Machines:
Coating Industry: Pulverizing LDPE granules to obtain finest quality powder to apply Surface/Powder Coating on metal parts of consumer durable goods
Injection Moulding Industry: Pulverizing recycled EVA for use in injection moulded Footwear.
PVC & Plastic Industry: Pulverizing Rigid PVC Pellets, Production Waste, PVC Pipes And Profile regrading to specially safeguard sensitive twin screw extrusion.
Rotational Moulding Industry: Pulverizing LLDPE Master Batch, LLDPE granules for obtaining Free Flowing, High Quality Powder with Controlled Fineness.
Thermoforming: Pulverizing Polypropylene.
Rubber Industry: Pulverizing recycled Rubber for use in Automotive Industry.
Range of Pulverizers / Pulverizer Machines are Cited Below:

Impact Type Pulverizers: Are you unable to find the perfect solution for your grinding and other requirements? If yes, then our impact type pulverizer machines are the ideal solution for you. The main application of our impact pulverizer is to grind all types of material – hard, medium and soft. The crushing efficiency of this equipment is simply unsurpassed in the industry. Designed by using latest modern technology, our range of these machines comes with excellent crushing efficiency. We manufacture the pulverizer machine for our extensive client base in India and in the international market. Our esteemed clients can avail from us a comprehensive range of Pulverizer Machine, which can be availed in different capacities.

Batch Type Pulverizers: We also manufacture batch type pulverizer machines that have automatic operation. These machines are durable giving clients quick return on their investment. The consistent quality in the end product is ensured via this Pulverizer Machine. In this equipment, uniform powder is formed with the pulverizing of virgin granules and colour pigments/additives. In batch pulverizer, with the state of the art technology, pulveriser color pigments/additives & virgin granules mix into a uniform powder with consistent quality reflecting in the finished product. This machine, with its upgraded technology has an upper hand of optimizing enhanced production.

Stainless Steel Pulverizers: With the next generation technology, our stainless steel pulverizer machines have higher performance and output. With the next generation techonology our stainles steel pulverizer machines are made from top grade stainless steel (SS) which not only gives a long life but also ensure high performance and output.

Suction Type Pulverizers: It is also one of the type of pulverizer machine which we provide.

Specifications of Our Pulverizer Machines:
Integrated gear box, which assists in material feeding via hopper, to the grinding chamber.
Dust collector for collecting dust and a bag for collecting material grind.
Grinding capacity: 100 to 300 meshes (depends on type of material to be pulverized).
High output, high efficiency and long life.