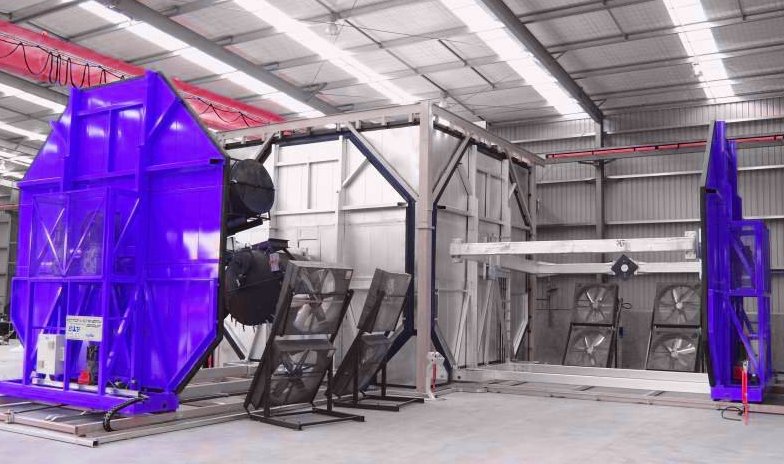 Requirements of multifunctional machines in the field of moulding is reliably met by the Three Side Shuttle Machine. This requires no stopping when testing a new mold or changing the old mould due to its three different arms which individually can perform the task while others are busy. Having a spherical diameter of 84 inches to 256 inches, this Shuttle Machine is fitted with parts of different size, shape and thickness of wall. It can easily be installed into a corner of the rotomoulding factory owing to its innovative L-shaped configurations. Operating a huge part with considerably long cooling cycles in comparison to other fitted mould on the machine is never a problem in Three Side Shuttle Machine. The third arm of the Shuttle Machine can be used in this case.

One of the important benefits of the shuttle design is the minimal need of following the same production sequence all the time. Three Side Shuttle Machine is equipped with the necessary interlocking and mechanical controls to deliver smooth performance. The indicators and alarms installed in this machine are fully capable of alarming any hazardous situation. Three Side Shuttle Machine is ideal for high volume production of over 15000 L/ 4000 USG. The automation system of this machine is configured in a manner to run all the part individually without effecting the performance of other.

Features of Three Side Shuttle Machine:
Specially designed to hold multiple moulds along with heavy moulds of various capacities
Provisions for the suitable heavy mould carrier arms and plates are given for supporting the structure from both side.
Sturdy and hassle-free operation instead of cantilever type station arms.
Control Panel with Digital Display and entire mechanism based on microprocessor.
Three Side Shuttle Machine has PLC for total automation.
Heating chambers are designed very uniquely to enable energy efficiency and uniform heat transfer to the moulds for short and fast cycle time.
Improved working environment with the help of special insulation material.
Uniform thickness is attained through straight arm having four mould individual carrier.
There is an in built facility for balancing and positioning, also a facility to add additional stations to enhance productivity.