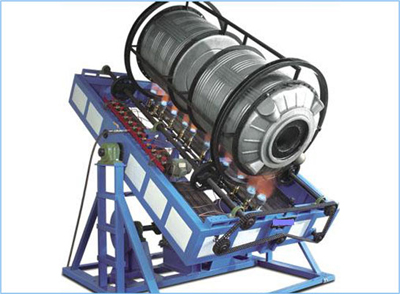 We are engaged in manufacturing high quality rock n roll rotational moulding machines, which are used in the production of plastic hollow water tanks in small and large sizes. Being a reliable manufacturer of such machines in India, we take it in our foremost consideration to design and develop superlative line of machine at market leading prices. For the same, we use durable and efficient components and imply cost-effective production methods. As a result, our machines display technically advanced features like corrosion resistant and robust frame that comes from using heavy mild steel and tripodal supporting structure.

Our rock n roll rotational moulding machine consists of digital control panel for easy operation. All the motors of the machines have speed variable drive for efficient rocking and rolling actions and facilitate better control of speed through panel board. Our rock and roll rotomoulding machine creates less vibration and jerking as compared to others machines available in the market. Low pressure and high pressure burners have been used in the machine so that it can be effectively used by the operator having little knowledge of the machine.

This open flame rotational moulding device can produce tanks up the capacity of 40000 liters/10000 USG. Drainage pipe of our rock n roll rotational moulding machine is up to 6.5 meter that assures quick clearance of the articles. Moreover, it consists of cooling station along with rolling drive and high performing industrial cooling fan. High production and minimum breakdown are the prime features of our rock and roll rotational moulding machines that drives the attention of customers belong to national and international markets. No frequent repairing is required in the machine and it has the flexibility of changing from gas fired to diesel fired system.

Features of our Rock N Roll Rotational Moulding Machinery:
Digital control panel
Cost effective
Sturdy frame
High capacity
6.5 meters long drainage pipe
Speed variable drive for better control
Microprocessor based machine control panel
PLC on specific request of the clients
Types of Models(of rock n roll rotational moulding machines) we Provide:
Closed oven type Rock N Roll with cooling station.
Gas / Oil fired Open flame with cooling station.
Open flame with cooling station.
Range availability:
Frame size of 1.5 x 2.5 meters to 3.5 x 7.0 meters to produce up to 40000 ltrs. [10000 USG]
Feel free to contact us to buy or for more information on any types of rock and roll rotational moulding machinery or rock n roll machines.