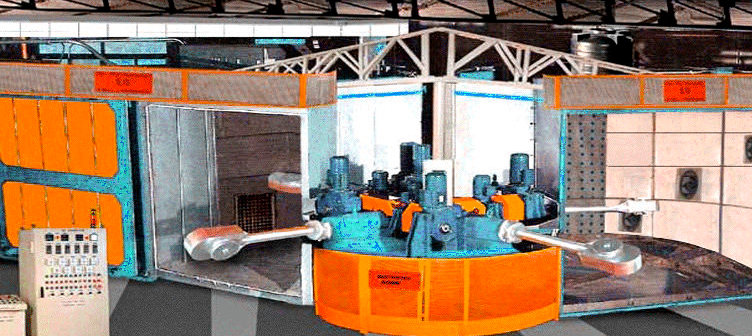 Independent Arm Machine is widely used in rotational molding industry. These machines has each arm on a separate cart, which provides a multiple-station arrangement for cooling, heating and servicing. The cart indexes a center pivot post and has a joint load bearing track. The floor plan of this machine provides five process stations:
Cooling
Load
Oven
Pre-cool or Intermediate
Unload
These machines can be availed with only single cart or arm. Importantly, three more arms can be added in the machine without modifying the technical configuration of the machine. Double cooling stations or double ovens are also available at the first place and can be added as per the modular technical drawings of the independent arm concept. Custom designs are also available for buyers to choose their preferred range.

Working Cycle:

This machine is available with six stations for utmost flexibility, which includes the following:
Molding and Cooking the article
Mold cooling station
Material loading
Intermediate phase for cooling
Pre-Molding station for second layer
As per customer requirement, the work station is subjected to variation in a preferred manner. The various important features of Independent Arm Machines are as follows:
In order to handle the machine swiftly, there is high tech control facility
In the head of the arm of the machine, special bevel gears are installed
Use-friendly interface for smooth operation
There is an air flow design of the cooking chamber
The arms have large loading capacity
Innovation systems for closing and opening the oven doors.
The thermal insulation of the cooking chamber is highly effective
For less fuel consumption, electronically controlled burner is fitted out.
In the closed circuit, heating is done with high velocity.
The oven is outfitted with sliding gates and doors.
In order to heat the molds, the oven measures and adjust the temperature in real time of the system.