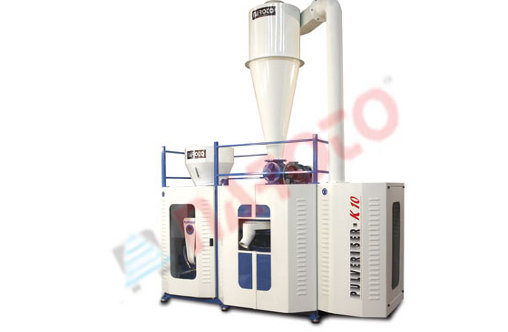 We bring forth high efficiency twin mill pulverizer machines, which are also known as waste plastic miller machine. Capacity of such twin mill pulverizers is very high. Our twin mill pulverizer machines are ideal for processing a comprehensive range of waste material such as plastic, PVC, HDPE, Rubber, PET, automobile recycling parts, and other materials. These machines have increased efficiency of 20% to 30%, as compared to other similar machines available in the market, owing to the use of superior grade components. Basic model of such machines are made using mild steel for high durability. It consists of wind and water cooling system that decreases the temperature and makes grinding easier by restricting the denaturalization of material.

Being a prime manufacturer of twin mill pulverizers, we make sure to serve the customers with high performance machines at competitive rates. This machine has advanced drive motor with capacity up to 45 KW. Main motor assures high speed and all the pipe material is made using stainless steel for durability and efficiency. Separation screen motor fitted in such twin mill pulverizer machines are of prestigious company and thus renders consistent performance for longer time period. In the machine, powder mesh is adjustable ranging from 20-150 mesh. Temperature control systems of such machines are regularly monitored for higher efficiency.

These machines are fixed with double side grinding disc which are made from high grade allow steel for all wear & tear resistance; these machines are available in various grades and specifications as per the requirement of the clients. Up till now, we have installed more than 300 twin mill pulverizer machines at our clients' premises across the world, which depicts our reliablity in this industry.

Key Features of our Twin Mill Pulverizer Machines:
Low consumption of power.
High output and long life.
Minimum maintenance.
Grinding disk made from graded alloy steel.
Cooling activity for mill body, stationery disk, and duct line.
Advanced Auto servo/Vibro feeder control feeding system.
Digital display microprocessor based machine control panel.