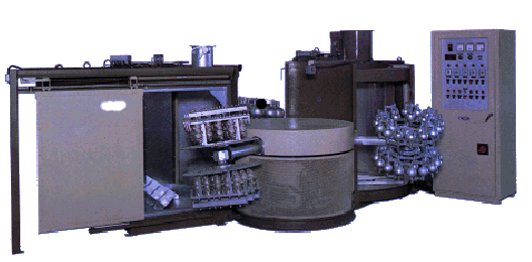 In the present era of competition, numerous companies have imbibed the objective of fabricating innovative and technology driven rotomoulding machinery. Designed at par with the international standards using cutting edge technologies, the Carousel Machines are configured to meet varied requirement of the rotomoulding process. State of the art technology and latest techniques are employed to consistently engineer world class machines providing increased speed and high accuracy. The Carousel Machines have three arms for carrying moulds in one turntable, around the central point periodics duty on 3 work stations. Three arms of the machinery on each turntable result in efficient production with the same product cycle. In case, products on the three arms have great difference in the processing cycle time production efficiency is affected.

Basically, there are three functional stages of the rotomoulding process:
Heating Station for Heating Stage
Cooling Station for Cooling Stage
Unload or Feeding Station for Unloading/ Feeding
Today, self motivated and skilled engineers strive to design new machines which can successfully cater to the needs of rotomoulders. Also, the designing of these machines is done with the help of advanced Computer-Aided-Design Software. Precision engineered Carousel Machines manufactured by well established entities have proved their consistency in performance and quality in the international market. There are two types of Carousel Machines:

Carousel Machine with Independent Arms: It ensures high productivity, energy efficiency and maximum flexibility. Configurations can be customized from 1 to 4 carriages. There is automatic & independent temperature as well as time control for each mould. You can choose optimal situation for multiple production of various articles, materials or different thicknesses.

Carousel Machine with Fixed Arms: This is the most commonly used rotational moulding machinery. Sturdy construction, high production capacity, easy to operate, less maintenance and high efficiency are some of the excellent features of our Carousel Machine with Fixed Arms. It has 3 to 4 mould carrying arms that move together in various working phases. This type of machine is best suitable for different parts with the similar working cycle. Moreover, there is scope for making changes in the moulding temperature & rotation speed at both axes on each arm.