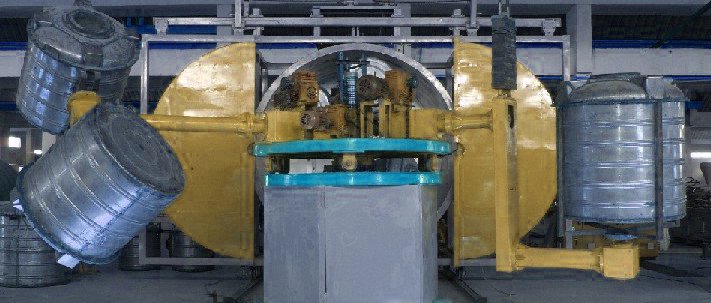 Bi Axial Oven Type Machine is the best suited machine for bulk volume production irrespective of the the complex sizes and related working functions. The moulder is complimented by its wide swing with diameter stretching from 60 to 240 inches. Robust steel structure along-with high efficiency output and low maintenance are it prime features.

Application:

This machine is generally used in application where the processing time for every arm needs same time as one cooling chamber, one heating chamber and one load/unload area. Further, it is also finds varied application for four station where on precooling, one heating, one loading/unloading area and one cooling chamber is needed.

Features:
For smooth working operations, the machine is covered with insulated material.
The straight arm of the machine consists two spacious spiders in order to accommodate various sizes of molds for flawless functioning.
There is a condition for second and third charging manhole on the top of oven in order to charge polymer without opening the oven doors.
The oven controls is outfitted with requisite safety and interlocking instruments along-with alarm system
This machine comes with Micro Processor control panel, which carries a digital display.
The Machine is equipped with high performing cooling fan along-with enclosed cooling chamber
Flexible and variable speed a/c drive for minor and major speed.
There is an inbuilt facility for balancing and molding positioning.
The burner is best-suited for LPG, CNG, Oil and Duel Fuels, which makes it Eco-friendly.
The machine is available in various ranges, which stretches from 60 to 237 inches along-with multi-arm as per customer drawn specifications.