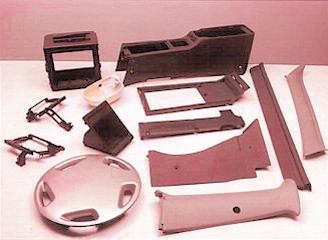 Rotational Moulding is used for providing a wide range of plastic products in the automotive industry/ market segment. Moulds are shell like, and are used in rotational moulding. It defines the outside shape of the products that do not have an internal core. There are six key factors for the manufacturing method of moulds. These factors include Size, Shape, Quantity, Appearance, Weight Capacity and Heat Exchange. The metal used for manufacturing of automotive moulds can be mild steel, aluminium, and stainless steel.

The development of plastic material/ components for various types of automotive vehicles has resulted in the giving new potential to the rotational moulding process. With the use of plastics in powdered or liquid form, rotational moulding procedure offers numerous benefits in comparison to other moulding processes like injection and blow. Greater flexibility of design, low fabrication & tooling cost as well as double wall construction are the main advantaged of using rotational moulding process for manufacturing Automotive Rotational Moulds.

This process enables the user/ operator to fabricate premium quality automotive parts or components. Wide range of Automotive Products manufactured by using Automotive Rotational Moulds are high on durability, material strength, and precision. There is very little or no waste scrap, and the products are relatively stress free & exhibit uniformity in terms of wall thickness. Significant improvement in technology and equipment coupled with development of Polyethylene & other polymeric powder has led to wide rotational moulding applications in the worldwide Automotive Industry.