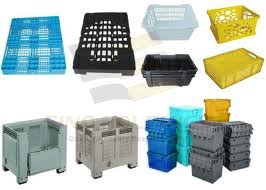 Rotational Moulds for Crates and Pallets are widely used in agriculture, automobile and textile industry in order to store the respective products and material. These Moulds are available in various customized forms, which makes it easy and convenient for transportation and handling. In addition, the crates are available in closed and open folded forms, which varies in sizes, shapes and designs as per requirement of customers. The Rotational Moulds for Crates and Pallets are very useful in giving the right and preferred form to the end-products, and deciding its productivity in the marketplace. Moreover, the moulds also decides the color and texture of the end-product and hence is responsible in giving the product its right value.

The Moulds are fabricated using grade-A raw material that are specified by international quality standards. Therefore, the pallets made out of these moulds exhibit striking features of longevity, accurate dimensional finish and texture, making them usable in pharmaceutical, textile and chemical industry. It is used to cargo on it without any type of hassle. The pallets made can be either two-way or four-way as per the drawn specifications and industrial requirements. As these pallets are available in varied shapes and sizes, they can also be customized depending upon customers requirement.

Precisely, Rotational Moulds for Crates and Pallets are fabricated from welded sheet cast or steel. Generally, the fabrication method is usually goaded by part size and bit of complexity, wherein most of the intricate parts are made of cast tooling. In addition, stainless steel and aluminum are widely used for the production of these moulds. Aluminum molds are generally much thicker as compared to steel moulds since it is a softer metal. However, it does not affect the cycle times in a big way as aluminum's thermal conductivity is way higher than that of steel.