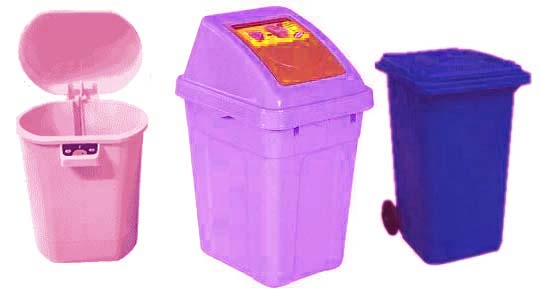 Rotational moulding is the most common process for developing large variety of moulds for plastic products. Large number of manufacturers in India are using this state of the art technology to develop rotomoulds for Dust Bins and other products like tanks, toys, etc. These moulds are further used for manufacturing wide range of waste or dust bins in various colors like red, blue, yellow, black, etc.

Waste bins are widely installed/ placed at airports, hospitals, railway stations, and in offices, homes, hotels, etc. Therefore, the requirement for rotomoulds for dust bins is never ending. The moulds should be manufactured by using finest grade materials in order to ascertain utmost efficiency. Using these moulds, you can manufacture high quality Dust Bins that are durable, defect free as well as cost efficient.

The process of Rotational moulding is preferred over the injection moulding process, due to its economic tooling costs, variety of color and finishes, one piece construction, uniform wall thickness, design flexibility from small to large articles, and short lead-time. Owing to all these benefits of the rotomoulding process, it is very easy to develop moulds that are accurate in dimensions as well as long lasting.

Despite its numerous advantageous points, some defects/ errors can occur:
When the mould is heated, air bubbles may appear in the liquidized material & it can create patches or hamper the surface finish.
Errors also occur during the cooling cycle that can degrade the product strength.